GENERAL INFORMATION
Narita International Airport
Narita International Airport is located 100km to the east of Yokohama. This airport handles mostly international air traffic and is the arrival point of a majority of foreign visitors.
For further information,please visit http://www.narita-airport.jp/en/index.html
Haneda Airport (Tokyo International Airport)
Haneda Airport (Tokyo International Airport) is located 14km to the east of Yokohama station. In 2010,the international terminal was opened at Haneda in conjunction with the completion of a fourth runway.
For further information,please visit http://www.haneda-airport.jp/inter/en/
Taxi
Taxis have display boards to show the availability status. You can take a taxi displayed as "空車" (Vacant). Taxi stands are located near stations,airports and commercial establishments. The basic fixed fare of a taxi is 710 yen for the initial 2km,and 90 yen is added for each additional 288m.
Major Japanese Banks / Japan Post Office Bank / ATMs
Banks are open from Monday to Friday 9:00 a.m. to 3:00 p.m. (Closed on Saturdays, Sundays, and national holidays) The Japan Post Bank, located in post offices, is open Monday to Friday from 9:00 a.m. to 4:00 p.m., and to 6:00 p.m. at some branches. Automatic teller machines (ATMs) are available for withdrawing by cash card every day from 9:00 to 20:00 at major banks. Many Seven Bank ATMs, located in local convenience stores are open around the clock for cash withdrawals. The closest Japan Post ATM is located in the Queen's Square Yokohama mall immediately across the street from Pacifico Yokohama.
Using ATMs in Japan
Most ATMs in Japan do not accept credit cards or cash cards issued abroad. However Japan Post Bank ATMs, accept foreign credit cards and offer an English service menu. The following "International ATM Service" notice is located on the machine with services accepted. Please note that a service charge may apply.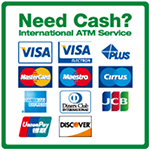 Seven Bank ATMs, located inside 7-Eleven convenience stores, accept foreign-issued credit cards and cash cards and provide vocal and on-screen guidance in the English, Korean, Chinese, and Portuguese languages. The machines also accept debit cards for cash withdrawals. The following ATMs can be used and can commonly be found. (Japan Post Bank/ Seven Bank / American Express/ Visa / Mastercard / Diners Club / JCB /China Union Pay)
Climate
Generally,the weather at June is pleasant and dry. The average temperature in Yokohama during the conference period is likely to be 20°C(68F)(Low 18°C(64F) / High 22°C(71.6F)). From June onward,when the temperature starts rising,a thin jacket would be advisable.
Currency
Official congress prices are indicated in Japanese yen. Only Japanese yen is acceptable at regular stores and restaurants. Certain foreign currencies may be accepted at a limited number of hotels,restaurants and souvenir shops. You can buy yen at foreign exchange banks and other authorized money exchangers on presentation of your passport. All major credit cards are accepted in most hotels,restaurants and shops.
Currency exchange
Foreign currency can be converted to Japanese yen at banks and stores displaying the "Authorized Money Changer" sign. Rates change daily thus please confirm the rate directly at each individual bank. Note that banks are located in the arrival lobbies of Narita and Haneda international airports thus currency exchange can be done immediately upon arrival.
Electricity
The electrical power supply in Japan is uniformly 100 volts,AC,throughout Japan,but with two different cycles: 50 in eastern Japan including Yokohama and Tokyo,and 60 in western Japan including Kyoto,Osaka and Nara. Leading hotels in major cities have two outlets of 100 and 220 volts but their sockets usually accept a two-pin plug only.
Insurance
The congress organizers cannot accept liability for personal injuries sustained,or for loss or damage of property belonging to congress participants (or their accompanying persons),either during,or as a result of the congress. Please ensure that you have the appropriate insurance.
Traveler' s Checks and Credit Cards
Traveler's checks are accepted only by leading banks and major hotels in principal cities,and the use of traveler's checks in Japan is not as popular as in some other countries.
VISA,MasterCard,Diners Club,and American Express are widely accepted at hotels,department stores,shops,restaurants and nightclubs.
For Further information on travelling in Japan-food, custom / manners, comunication and so much more, go to the GO TOKYO.