FINAL DELEGATE INFORMATION - IN-PERSON
We look forward to welcoming you to the WFOT Congress 2022 to be held on 28 – 31 August in Paris, France. To ensure you make the most of your Congress experience, please see below for some pre-arrival information.
VENUE
The WFOT Congress will be held at the Paris Convention Centre: Paris Expo Porte de Versailles – Pavilion 7.3
1 Place de la Porte de Versailles
75015 Paris, France
HOW TO GET TO THE PARIS CONVENTION CENTRE
Public Transport
METRO: Line 12, Porte de Versailles station / Line 8, Balard station
TRAMWAY: Lines T2 and T3a, Porte de Versailles–Parc des Expositions stop
BUS: Line 80, Porte de Versailles–Parc des Expositions stop / Line 39, Desnouettes stop
BICYCLE : Vélib' station in avenue Ernest Renan
Please click on the following link for further information:
Paris Convention Center - Access



PARIS, FRANCE
If it's your first time to Paris, the below link may settle any uneasiness you're feeling about visiting a new city:
Introducing Paris - Transportation



REGISTRATION AND INFORMATION DESK
The Registration Desk and Information Desk will be located in Pavilion 7.3 of the Paris Convention Centre and will operate during the below times:
Sunday 28 August: 07:00 – 18:30
Monday 29 August: 07:30 – 17:00
Tuesday 30 August: 07:30 – 17:00
Wednesday 31 August: 07:30 – 15:00
You will receive your personalised QR code in your final delegate email. This will be used on-site to print your name badge. You can either print the email or bring it with you to the venue using your smartphone or mobile device.
On arrival at the Congress, please collect your badge and other materials at the Registration Desk. Friendly staff will be on hand during the opening hours advised above, to answer your questions and provide information about the Congress, venue and surrounds.
If you have any changes to your registration, please advise the staff at the Registration Desk. Please note that any changes to your registration onsite may incur administration fees.
VOLUNTEERS

Look out for the volunteers in red t-shirts and caps who can help and direct you, as well as answer general questions about Paris and getting around.
NAME BADGES

Each in-person delegate registered for the Congress will receive a name badge upon arrival. This badge will be your official pass and must be word to obtain entry to all sessions, exhibition, catering and events.
Please note the below symbols that will appear on your badge (if you have booked for that event).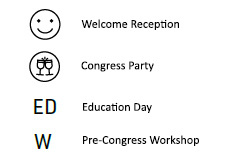 EDUCATION DAY / PRE-CONGRESS WORKSHOP

The Pre-Congress Workshops and the Pre-Congress Education Day will be held on Saturday 27 August at:

Hôtel Mercure Paris Porte de Versailles Expo,
36-38 Rue du Moulin,
92170 Vanves,
France
Registration will be open at the Hôtel Mercure on Saturday 27 August from 08:00 – 16:00. Light and refreshments will be provided throughout the day and lunch will be provided for those attending the Education Day.


SATELLITE WORKSHOPS
The below workshops will be held by our sponsors over the daily lunch break. All are welcome!

Monday 29 August 2022, 12:45 – 13:00, Room: S05 Google: Automatic Speech Recognition for People with Impaired Speech
Tuesday 30 August 2022 12:40 – 13:25, Room: S05 The Boston University Interprofessional Leadership in Healthcare Certificate using an Alumni Mentoring Approach



CONGRESS PROGRAMME

Congress sessions commence on Sunday 28 August from 08:30am.

Please visit the programme page for details or download the Congress app!

You will also receive a printed copy of the programme, but the most up-to-date version will be on the Smartphone app.



CONGRESS APP

The WFOT Congress 2022 mobile app gives you instant access to all the details you'll need to make the most out of this exciting event. View the programme, featured speakers, ePosters, exhibitors and more.
Download the Cvent Events app from your app store.
Search for WFOT 2022, then click the icon to download the WFOT 2022 event.
Create your own schedule and profile by logging into the app. Click the Profile icon at the bottom of the screen, then click Log in.
Enter your first name, last name, and email address that you used on your registration
TRANSLATION

The WFOT Congress 2022 will be translated into English and French.
You will be able to access the translation service via an app 'Congress Rental Network'. Therefore, you will need to bring your own device (smart phone, iPad etc) AND headphones in order to access the translation. Charging stations will be available around the venue but we encourage you to make sure your devices are fully charged at the beginning of each day.
To access live interpretation on-site follow the below instructions or view the instructional video here
Download the free "Congress Rental Network" app from the Apple app store or Google Play store
Connect your headset to the device and click 'OK'
Enter your room's token (e.g WFOT-S04) and click 'CONNECT'
Select your required language and click 'CONNECT' (EN – English / FR - French)
Click DISCONNECT once the session is over and then back (<) to enter another room's token.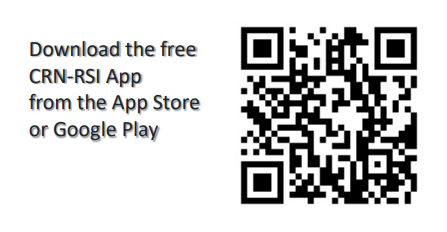 ON-DEMAND CONTENT
Congress content will become 'on-demand' once the Congress is no longer live. The live sessions will be recorded (pending speaker approval) and will be uploaded on the Virtual Attendee Hub once the Congress is no longer 'live' so that it can be watched or re-watched at your leisure until Friday 25 November 2022.

POSTERS

The e-Posters can be viewed on the Congress app and website throughout the Congress. Some e-Posters will be discussed in the Lightning Talk concurrent sessions throughout the programme in the Exhibition Hall. Some presenters have brought along a hard copy poster to display for one day at Congress.
Take the opportunity to view the e-Posters and chat to the presenters during the Lightning Talks and at the poster boards.



CERTIFICATES OF ATTENDANCE

Certificates of Attendance will be sent via email after the conclusion of the Congress.
SPEAKERS PREVIEW ROOM

An AV technician will be available in the Speaker Preview Room to upload your presentation onto the system if you have not uploaded via the link provided already. All in-person presenters are required to check in to the Speaker Preview Room at least two hours prior to their session or the day before to allow time to ensure their presentation can be opened and uploaded onto the Congress AV network.

The Speaker Preview Room will be located at the Congress venue and will be open during the following times:

Sunday 28 August 07:00 – 17:30
Monday 29 August 07:00 – 17:00
Tuesday 30 August 07:00 – 17:00
Wednesday 31 August 07:00 – 15:00



SOCIAL PROGRAMME

Please take note of the below social activities:

Welcome Reception
Enjoy time to relax, network with colleagues from around the world and introduce yourself to the wider occupational therapy community at the Congress Welcome Reception. Conveniently located within the congress venue, the welcome reception is the first social event of the programme. The welcome reception will be filled with ambience created by your surroundings where you will enjoy delicious French cuisine and entertainment. Tickets include canapés and beverages.
Date: Sunday 28 August
Time: 17:30 – 19:00
Venue: Exhibition Hall, Paris Convention Centre, Paris Expo Porte de Versailles
Cost: Free of charge for FULL Congress delegates and Sunday/Monday Day delegates.
Congress Party
Celebrate your time in Paris with colleagues at the Congress Party. To be held on Tuesday 30 August at the Hôtel de Ville (Paris City Hall), enjoy impressive neo-renaissance interiors with views overlooking the Seine with Notre-Dame Cathedral in the distance. The stand-up function will include canapés and beverages.

You will be required to make your own way to the venue which is a simple ride on the Paris Metro 12 from Porte de Versailles and change at Concord for Metro 1 to Hôtel de Ville. Take exit 6, entrance to the venue is on Rue de Lobau.

Date: Tuesday 30 August
Time: 19:00
Venue: Salon des Arcades, Hôtel de Ville de Paris, Place de l'Hôtel de Ville 75004 Paris
Cost:
High income economies: 80.00 €
Low income economies: 35.00 €
Wi-Fi INTERNET
To access Paris Convention Centre wireless internet, please follow the steps outlined below:

1. Ensure your wireless enabled device is turned on and you have enabled the wireless switch/button
2. Open your wireless connection list.
3. Select WFOT2022 from the list of available wireless networks.
4. Enter the password – WFOT2022.
DIETARY REQUIREMENTS
If you are unable to select appropriate food from the catering buffets, please notify the catering floor staff and they will direct you to the Special Diets Buffet. Please note that catering will ONLY be provided for the following diets: Vegetarian, Gluten Free and Vegan.
SOCIAL MEDIA
We invite you to use social media to promote the Congress and have dialogue with your peers. If you haven't already, follow us on twitter at @thewfot and use the hashtag #WFOT2022 for all Congress related tweets.


SPONSORS AND EXHIBITORS

The WFOT 2022 Congress would not be possible without the support and investment of our sponsors and exhibitors. Please take the time to visit the exhibitors who will showcase their goods and services in the Exhibition Hall from Sunday – Wednesday.

View the sponsors and exhibitors at WFOT Congress 2022 on the Sponsorship page.


COVID SAFE INFORMATION

The WFOT 2022 Congress will take all reasonable steps to provide the safest possible environment for congress delegates, speakers, sponsors, exhibitors, staff and suppliers. We are guided by the relevant Government guidelines, and advice from the World Health Organization, to ensure the event meets our COVID-safe obligation. We have worked with the Paris Convention Centre, and suppliers to develop and implement a COVID-safe event plan, to protect the health and safety of attendees, staff, suppliers and our communities.


FURTHER INFORMATION

If you require any further information about registration, programme or venue, please visit the Congress website or contact the Congress office:
WFOT Congress 2022 Organising Committee
Think Business Events
Phone: + 61 3 3 9417 1350
Email: [email protected]